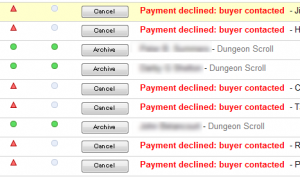 Something is wrong with the Android market.  Yesterday the credit card rejection rate for our sales was near 80%.
The Android market team told me this:
We've made some changes recently that may have resolved the problem.
Please let us know if this error persists.
And indeed it seems things are working better today, but I don't believe they are completely fixed as many orders are still being rejected. This is very frustrating because there isn't much I can do about it on my end. :(
This appears to be affecting non US-developers only.   People are discussing this problem here and here.
If this happens to you
If you've bought something and it refuses to let you download it, check your email – they may have (incorrectly) invalidated your credit card.
When this happens, it refuses to let you try to purchase the app again until:
You've submitted a new credit card for the existing order (I'm not sure how to do that…  the cancel email probably has a link)
The order times out after seven days
I personally cancel your order
If you need me to cancel your order so you can try again just drop me a line.