What's the Fling?
The Fling is sort of a rubber joystick you attach to your iPad's screen with suction cups.  It really does feel like an auto-centering joystick.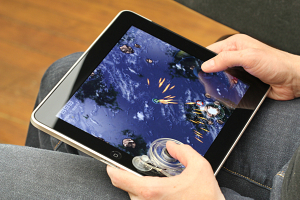 It's got this ingenious design where you have to slightly press down on the nub-thingie or you feel it will slip out of your hand – and the down press makes it work properly with the iPad touch screen.
Dink HD and the fling
Dink Smallwood on the iPad is really a game screaming for joystick control.  I've done my best with touch controls but, let's face it, it's just harder to control Dink with all the stick-and-move fighting required.  This is why I added the "save anywhere" and such, to make the game easier.
Using the a Fling you get VERY close to normal joystick play, it really helps immensely.   I recommend picking one up if you want to get the full iPad dink experience.
What's new in 1.4.8
Fling support – A third control mode called "Fling" added to the option screen – it tweaks things to work better with the Fling controller such as the dpad sensitivity settings and positioning, and being able to select items and dialog options with it
Saved game import – if you place a save<number>.dat file in the dink dir using iTunes file sharing it will import it.  save<number>_<dmod dir name>.dat to import a dmod save
Fixed an issue where if you quit using the dink menu it wouldn't auto-save/restart from that point
Improved input all around by switching to proton's more advanced finger tracking