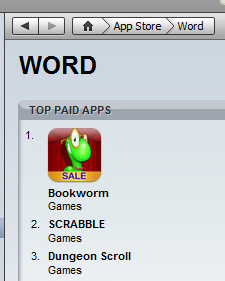 Dungeon Scroll has entered the best selling app lists in the US App Store (other countries as well!):  Word games: #3, Puzzle games: #15, All games combined: #91.
Yeah, won't last long but it's fun being listed right behind Book Worm and Scrabble for a bit. :)
Here are some reviews/articles/blag things:
"Dungeon Scroll is one you really need to add to your collection" – touchArcade
"There's no question about whether or not you should buy it" – Inverty
"Amazing RPG/word game mashup" – It's a trApp: Galactic iPhone App Reviews
It's maintaining a healthy 4.5/5 star rating in the US App Store.
So I didn't let a giant bug slip in at the last minute, phew.  That's the worry that causes programmers to wake up in a cold sweat in the middle of the night.
Some musings:
I've seen a few places sort of implying that I copied Book Worm Adventures, it's worth noting that I wrote the original Dungeon Scroll (PC Version)  in 2003, BWA came out in 2006.  So eat it, Popcap! :)
Dungeon Scroll PC price reduced:
To celebrate the iPhone release I'm lowering the PC version of Dungeon Scroll to $6.95. (That's marketing talk for I'm just trying to make it sell better)
The PC version also lets you type on a keyboard to control letters which is amazingly fast – if you can type well.  If Bluetooth keyboards or something are ever supported by the iPhone I'm going to add support for that ASAP.
To catch a cheat
One of the issues with high scores and word games is they are pretty easy to cheat using software that helps you make words.   Multi-player Chess or trivia  games have a similar problem.
Dungeon Scroll for iPhone includes an amazing amount of information on each game that you can examine and decide yourself if it's "legit" score or not.
Ok, an example.  Let's examine the current high score of that brave dungeon hero, "youallsuck".  (You can play along at home using the web rankings if you want)

Click the little "i" icon on a game you are curious about.
In the game details look at three things: Strongest word, 7 & 8 letter word count, the list of strong words itself.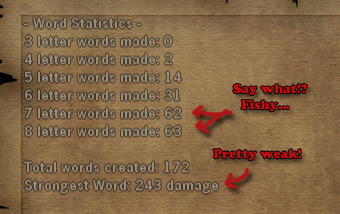 Strange, most other high scores have less than ten 8-letter words.   And that's a mighty weak strongest word for a score that size.  (243 damage?  Weak.  2,000 would be strong… (and equal huge points!)  Don't underestimate the power of the 2x and 3x multipliers used together!)
Well, what kind of words was he making?  Maybe he's just a genius?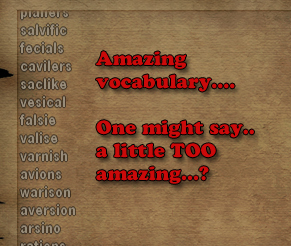 Yeah, that's what I thought.  Like a disgraced Olympian caught using steroids, the once respected youallsuck will be asked to return his gold medal.
Now, I COULD erase the score manually (or automatically through a checking heuristic) but I find the easiest way is just to let it ride and have it drop off the list in a week naturally.
This technique can also help you locate the mischievous on Dungeon Scroll PC.