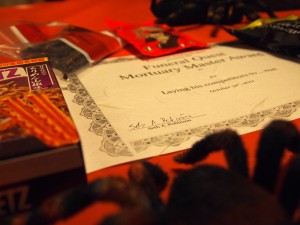 So I was checking on FQ today and was surprised to find the tourney had ended itself a day early, oops!
Here were the top five players:
| | | | | |
| --- | --- | --- | --- | --- |
| 1 | moose | M | gmom | 63,591 |
| 2 | Vaughn Moore | F | Bites the Dust | 55,362 |
| 3 | Wiz | M | Plots 'R' Us | 52,114 |
| 4 | Dinos | F | House of Gore | 51,633 |
| 5 | Hawk | F | Eternal Nesting | 41,978 |
Our lucky winner, Moose, will receive some truly gross snacks/candy and a very ghetto (sorry, the printer is 10 years old and .. misbehaves)  "official" winning certificate signed by both Akiko and I. (Don't forget, she did 100% of the artwork in the game!)
Besides the obvious prestige,  I wouldn't be surprised if this certificate also gets you a nice discount at participating funeral parlors.
Moose, I've emailed you for your address to send out this stuff.
So what to do now?  I gently suggested we keep the game running on Akiko's computer at dinner and she sort of grunted noncommitally.  So I think I'll just leave a game going for awhile in non-tourney mode.  Maybe do another real tourney next October? Hmm, is that a tradition I smell or did the parlor freezer break again?
Details of the "prize" package:
Pretz snack (fish head flavor, probably some eyes and things in there.. the box is digusting)
Gorilla Boogers (not kidding, that's what it says on the package…)
A mystery snack from Okinawa
A pack of Chili Biltong Bites Akiko brought back from her trip to africa last week.  The main ingredient is listed only as "meat".  I'll say no more.
Anyway, thanks for playing everybody!
To join the new "ongoing" game, play here, free as always.